When asked about the success of BR Works, Andrew Fitzgerald recounts two stories. "Our Director of Talent Development sent it to a friend who within 10 minutes was like, 'Oh my gosh, I just applied for a job, this is perfect.' And a staff member here actually uploaded her resume and said, 'Yeah, it basically showed me my dream job.' And we're telling her to shut it down, shut it down! You can't do that!"
Fitzgerald serves as senior vice president of business intelligence for the Baton Rouge Area Chamber (BRAC). BRAC represents a nine-parish area in Louisiana known as the Capital Region and works with local and state entities to advance economic development. BR Works is a jobs portal for the Capital Region featuring a skills-based approach to matching jobseekers with local jobs and regional training opportunities. Additionally, the site provides resources for both job seekers and employers.
But the skills-first approach to matching people with jobs and training sets BR Works apart. That, and its marketing effort (more on that later). And like any economic and workforce program, it has been developed to meet the specific needs of the local Baton Rouge market.
Retaining local graduates
Baton Rouge is home to two land grant universities: Louisiana State University and Southern University; two community colleges: River Parishes Community College and Baton Rouge Community College; and the healthcare-focused private university Franciscan Missionaries of Our Lady University. This means that at any given time there are roughly 55,000 students enrolled in the area.
"So the question is how do you keep them here," says Fitzgerald. "Our talent and workforce efforts are about ensuring that those students are engaged in programs that crosswalk to high demand, high wage positions. And then once they have those certifications, degrees, and skills, keeping them in the region."
BR Works helps students and jobseekers see that crosswalk using the common language of skills. Visitors to the portal can start by answering questions about their interests to help determine the best job fits. Alternatively, they can upload their resume and BR Works then extracts the skills identified in the resume. Jobseekers can also self-identify any of their skills. The tool then matches them, based on their skills, to job postings in the Capital Region.
In this way, it's much more than another job board. It facilitates connections for jobseekers (people) between their formal and informal training (education) and the needs of the market (employers).
Upskilling opportunities
And those connections now go beyond job openings. In the fall of 2022, BRAC launched a new feature of BR Works that suggests the programs and courses a person needs to move into the job they want. This second phase of the portal helps jobseekers understand the skills gaps between existing competencies and those required for desired positions, and then recommends courses from local training providers to close that gap.   
"Talent retention and talent development are inextricably linked. Elevating the skill sets of our residents to better match the jobs available in the Capital Region will naturally help increase retention rates," said Adam Knapp, BRAC president & CEO. 
Utilizing massive open online courses (MOOCs) BR Works has over 15,000 upskilling opportunities and includes more than 130 local offerings.
This skills approach to job placement and training continues to gain traction as both education and business adopt skills as the language for communicating competencies.
"I think that employers are definitely thinking of it in terms of skills. You're seeing more with the state pushing micro-credentials and short-term training, non-degree programs, and certifications. I think that that's been normalized by higher education and employers are on board. Employers that traditionally want a bachelor's degree for a job are saying 'can you do the work?' So I think that your employers and higher-ed are normalizing skills and that is trickling down to students," says Fitzgerald.
A great tool still needs marketing
Chambers are embedded in their communities. They know the businesses, the people, the institutions, and everything in between. For this reason, they are perfectly positioned to implement a skills-matching platform. However, to ensure the user experience of BR Works was as good as it could be, BRAC worked closely with the product team at Lightcast. 
"Together with BRAC, we tested the tool with Baton Rouge jobseekers," says Matt Horning, product manager at Lightcast. "We learned people are frustrated with the amount of time wasted browsing, crafting resumes, and applying in masses. BR Works challenges that approach by starting with a jobseeker's interest and skills before matching them to opportunities. Narrowing the results that matter to the jobseeker so they can focus on high-quality opportunities."
With the right tool for the Baton Rouge market in place, the next step was getting the word out. If you build it they will come, but only if they know about it. Consequently, BRAC was very active in its marketing of BR Works. A series of TV commercials were produced and a digital marketing strategy deployed.
"We saw an uptick after the commercial. Definitely the most impact has been digital marketing though," says Fitzgerald.
For any workforce development program to gain traction, awareness is key. But even with skills becoming a more common way for people to understand their abilities, a tool such as BR Works is still novel. A typical job board involves combing through postings, perhaps filtering by field or job type. But for jobseekers in the Capital Region, BR Works is much different, matching people and employers based on something more predictive: skills.
So as an early adopter of skills tech in workforce development, the need for BRAC to get the word out was more important. And word has gotten out. BR Works has had 75,000 visitors accessing the various jobseeker and employer resources. In 2022, the jobseeker tool had 10,500 job listings viewed, more than 600 residents completed the assessment to determine their interest areas, and nearly 500 clicked through to apply for local jobs. Even local media took notice.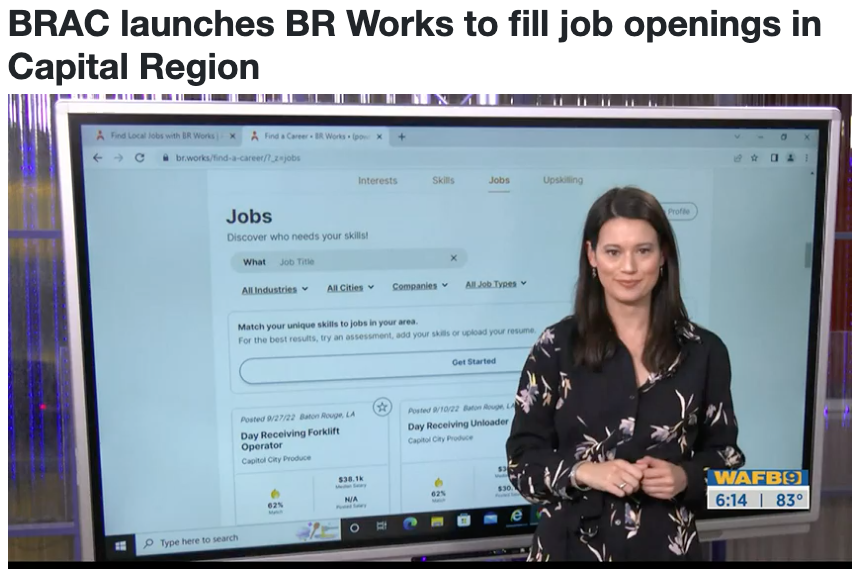 Filling the gap and future plans
Chambers like BRAC have a tough task before them: help businesses find talent amidst a labor shortage that likely isn't going away. One way to help is eliminating friction between jobseeker and job. BR Works is proving effective at that. 
"We've definitely used it as a way to connect people with open jobs in the community," says Fitzgerald. "And with the tight labor market, that's super important."
In addition to making it easier to source local talent, Fitzgerald sees an opportunity to expand the talent pool for Baton Rouge employers. "I think it could be a good talent attraction tool. I envision having somebody, an attorney in Chicago, get a popup band that says '72 degrees in Baton Rouge in December and look for your next career here.' And you click through to BR Works. We're exploring that right now."
This innovative and multifaceted approach to talent development is likely a valuable playbook for many communities. Partners and businesses in the Capital Region are seeing the value as well. "I couldn't recommend it enough," says Fitzgerald. "We actually had one of our investors up their investment and they're like, we're going to up our investment, but we want it to pay for this."