In 2022, the Alabama Community College System (ACCS) commissioned an economic impact study to quantify their colleges' contributions to Alabama's social and financial prosperity. When the ACCS rolled out their completed study in January of 2023, it made quite a splash. Since then, the report's findings have been a critical part of their ability to attract positive press, increase funding prospects, and garner local government support. 
Barry May, Executive Director of Workforce and Economic Development at the ACCS, played an integral role in the study and recently joined us to share his hands-on experience and learnings from the project. He provided best practices and advice for other institutions considering an impact study, including how to leverage your findings for maximum impact.
You can access the full webinar recording and slide deck, or read on for a lightly edited transcript of Mr. May's remarks.
---
The ACCS, by the numbers
The ACCS consists of 24 community and technical colleges, the Marion Military Institute (one of five junior military colleges in the nation), and Ingram State Technical College (Alabama's sole correctional education provider).  Not included in that number, but also under the ACCS umbrella, is our state's Manufacturing Extension Partnership (MEP), the Alabama Technology Network (ATN) who are also located across the state providing training and other solutions for small and medium sized manufacturers.
We are proud to have served more than 155,200 students this past year with 310 degree programs.  
With a median cost of only $164/credit hour, we provide one of the lowest cost options for those preparing for their career.
Background and reason for the EIS
Why did we decide to conduct an economic impact study and why might your organization want to conduct one as well?
Legislative focus on ROI - There were multiple factors that led the Alabama Community College System (ACCS) to move forward with an economic impact study. One reason is that each year, the ACCS Chancellor is called before the Alabama Joint Legislative Committee on Finance and Budgets to present on the ACCS's budget condition and funding requests going into the next legislative session. Last year, Representative Danny Garrett, Chairman of the House Ways and Means Education Committee, was highly focused on questions related to the Community College System's return on investment of state dollars. Representative Garrett is a former CFO and has targeted return on investment (ROI) of state agencies and educational institutions during his time as education budget chairman.  We realized that some of the questions that were being asked of Chancellor Baker could be better answered with an updated economic impact study of the System as the last economic impact study of the ACCS was completed over 10 years ago.

Presidential ad hoc committees - Around the same time we were considering an economic impact study, Chancellor Jimmy Baker appointed the ACCS college presidents to various ad hoc committees that were reviewing specific items of interest to the ACCS. Two of the ad hoc committees were focused on reviewing the ACCS's marketing and communication strategies and reviewing the ACCS college appropriation funding formula; both made recommendations to proceed with an economic impact study. 
The Marketing and Communications committee was interested in the data that an economic impact study could provide that would allow the ACCS to better tell its story and share the value to the state's economy, while the Funding Formula committee believed that an economic impact study for each college could help better capture each college's ROI to the community it serves, and to the state overall, and assist in determining an updated funding formula. 
With a key state legislator and two ad hoc presidents' committees supporting an economic impact study, it made for an easy decision to move forward with an economic impact study. 
Example findings from the EIS
When the study was completed, we were all very excited with the results. I have just included a small tidbit of information that was taken from our report, but each of our colleges received an individual report that included the full detailed report (ours was 102 pages) detailing the results of the study and how the results were derived along with an executive summary, Infographics with interesting comparisons of our impact, and a presentation of our results.   Lightcast also prepared a press packet that we used to develop our communication and marketing strategy associated with the Economic Impact Study.
From "Demonstrating the Value of Higher Education." See below for full recording.
Impact of the impact study ("What have we been able to accomplish?")
The economic impact study has led to several immediate accomplishments. First, it allowed us to achieve some very positive press on the System's ROI and economic impact to the State of Alabama. The press announcements and data provided to media were used and reported across the state. In fact, the media exposure for the ACCS due to the economic impact study was some of the best and most positive PR that we have seen in several years.  The results we have experienced thus far are as follows:
More than 30 news stories, press releases and interviews across the state regarding the systemwide and community data.

A nearly 3% click-through rate from posts on LinkedIn alone (Note: our typical average CTR is around 0.67%)

At least one other state has expressed interest in more information about our System as a result of news they heard about our study
 Another accomplishment includes the ability to better tell our story and make the case for increased funding to our state legislature. Although this is the first legislative session since the release of our economic impact study, the ACCS is in line for more funding than ever before and our prospects are looking more and more favorable for success. We believe a big part of this is due to the economic impact data that we were able to provide legislators going into the legislative session this past March (our economic impact study was completed in late January with coordinated rollout in February of 2023.)
Lastly, the economic impact study has had a positive impact on our colleges' standing with their local governments. Not only did ACCS go through an economic impact study as a System, but each college had their own economic impact studies performed as well. Many of our colleges are going through significant capital improvement efforts right now, and many city and county governments have supported our colleges with these efforts through financial commitments and other support. We believe that each college being able to share their community impacts and ROI data through the economic impact study helped make the case to their local governments that investing in their local community college was a good investment.
How we have used the EIS data
So, how have we used our Economic Impact Study thus far? To achieve some of the things I just mentioned, we first worked internally to determine the statistics and data that would most resonate with our state's audiences. Then, we used that information to develop our social media content and ads. 
Once we identified those, we used Lightcast's infographics as well as created some additional infographics to help tell our story including:
Creating a website (www.accs.edu/impact) dedicated to the state report

Creating a video with the state data and provided the customizable elements to each college to create its own video

Creating multiple social media posts that highlight the study's results

Writing a systemwide press release and provided the option to the colleges to customize, but required that they include the overall state impact

Purchasing advertising in two of our largest political news sources in the state

Emailing legislators and key stakeholders highlights of the report
Without this data, information regarding our impacts have been more anecdotal and the impact study has allowed our communications to have substance that backs up our claims.
From www.accs.edu/impact
Recommendations: Before release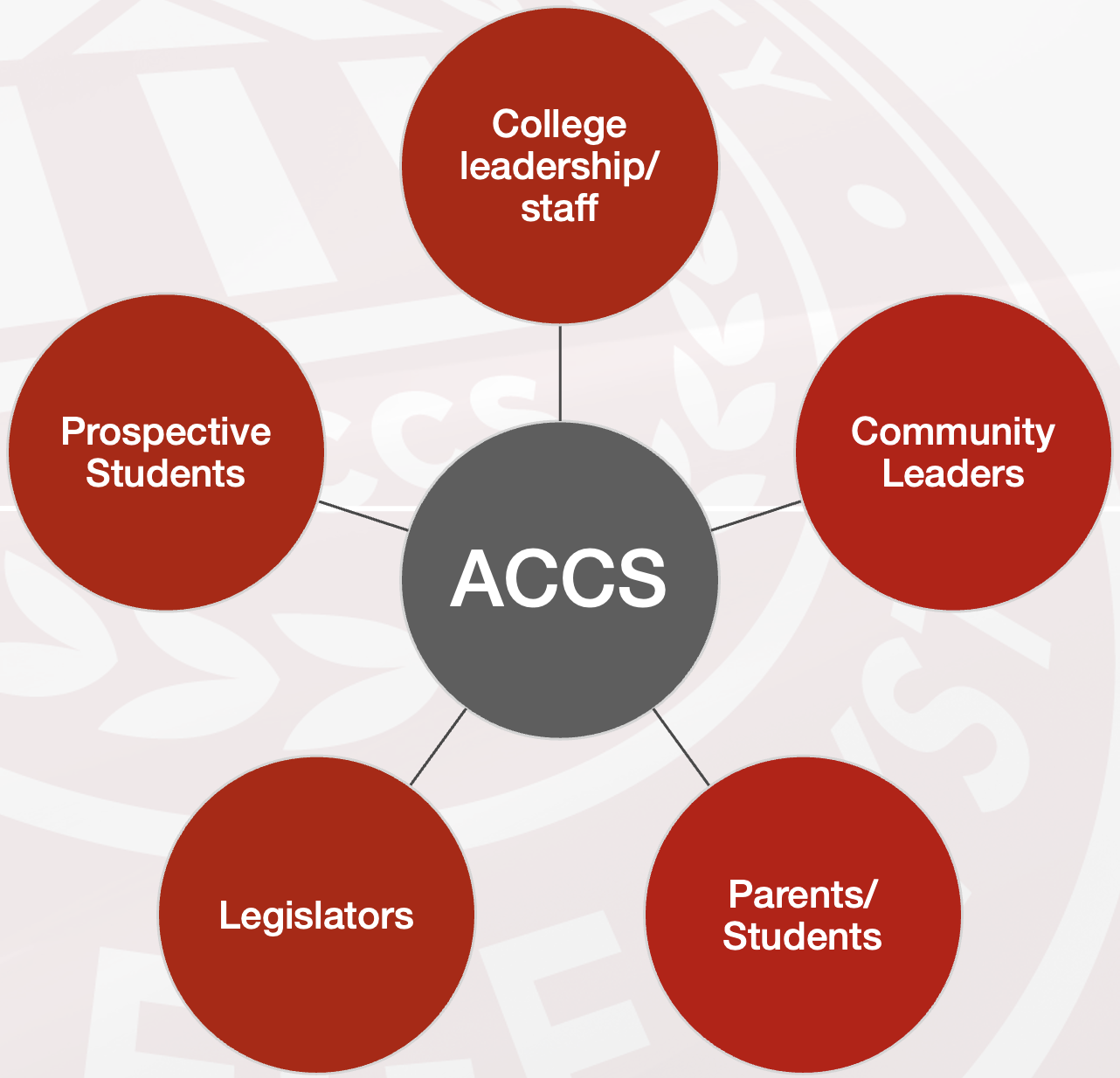 If you are implementing this as a system-wide effort or even as an individual organization, there are things that you need to consider during the implementation of the study prior to completion and things to consider once the study has been completed.
First, it's very important to gain an understanding of your internal and external audiences, and develop a separate communications strategy for each.
For our internal stakeholders, we provided timely updates and information to the college presidents, marketing teams and executive staff on the progress of the studies. And, once complete, held sessions with all the colleges in which Lightcast presented the Economic Impact Study results ensuring that everyone knew how to interpret the results of the study.
Our communications department then met with all of the public relation managers at the colleges to ensure that everyone was in alignment on how they would go about communicating the results of the study to their local communities.
Recommendations: After release
Once you have released the results of your study, I recommend that you:
Engage with your local and state media outlets: To ensure that your study findings are widely reported and positively received, engage with your local and state media outlets. Reach out to reporters who cover education or economic development, and provide them with a summary of your study's key findings, along with any relevant quotes or interviews from your institution's leadership.

Continue leveraging social media: Find creative ways to communicate differently the results of the study that is targeted to different audiences.

Host events to share the study's findings: Hosting events to share your study's findings with key stakeholders, such as legislators, business leaders, and community members, can be an effective way to build support and generate interest in your institution. You may even consider hosting a public forum or a series of presentations to share your study's findings and answer questions from the audience.

Use the study to inform your strategic planning: The insights gained from an economic impact study can be used to inform your institution's strategic planning efforts. Use the data to identify areas of strength and opportunity, and to prioritize investments in programs and initiatives that will have the greatest impact on your institution and the broader community.

Follow up with stakeholders: To ensure that the impact of your study is sustained over time, follow up with stakeholders periodically to update them on your progress and to reinforce the importance of your institution to the community. Consider sending regular email updates or newsletters to keep stakeholders informed and engaged.
The value of higher education
This quote by Nelson Mandela is something that our community college system knew was an absolute truth, but having data that shows how the world is being impacted by education is invaluable:
"Education is the most powerful weapon which you can use to change the world."
---
Q&A with Barry May and Lightcast Economists
Lightcast economists Hannah Ruffridge and Laura Robison joined Barry May at the end of his presentation to field questions from the live webinar audience. You can see answers to each question using the time-stamped links below: