New apprenticeships have been expanding rapidly over the last 10 years. In 2021, there were registered apprenticeships in 266 different occupations across 367 distinct industries. More than 40% of those apprenticeships did not exist in 2010, and the vast majority of these new apprenticeships appeared after 2015. And these are just registered apprenticeships. 
Employers themselves have created informal apprenticeship-type training programs that cover an additional 208 occupations, 120 of which are new since 2010, ranging from personal financial advisors to sales representatives.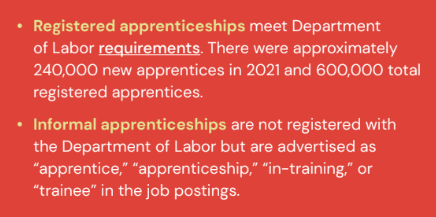 These findings come from the new Lightcast and Opportunity@Work joint report The Changing Face of Apprenticeships: New Opportunities for Employers and STARs. The report analyzes apprenticeships from the Department of Labor's Registered Apprenticeship Partners Information Management Data System (RAPIDS) and Lightcast job posting data. It finds that registered and informal apprenticeships now provide entry into 56% of all occupations. 
The growth is further evidence of a tight labor market, one in which employers are taking talent development into their own hands. It also provides a possible answer to the persistent question of communities: where are we going to find the talent our businesses need?
Employers aren't waiting
Historically, unions and Joint Apprenticeship and Training Committees (JATC) have led the charge on apprenticeships. But employers are the primary sponsor of new registered apprenticeship programs and make up the entirety of the informal apprenticeships seen in job postings. 
And these new apprenticeship programs are funneling workers into roles that used to require a college degree: 40% of workers in the new registered apprenticeship programs are going into jobs that used to require a bachelor's, compared to 2% of traditional apprenticeships. The result is notable growth in apprenticeship pathways for higher-wage roles in management, healthcare, and information technology. 
Employers are running with the apprenticeship model for three primary reasons: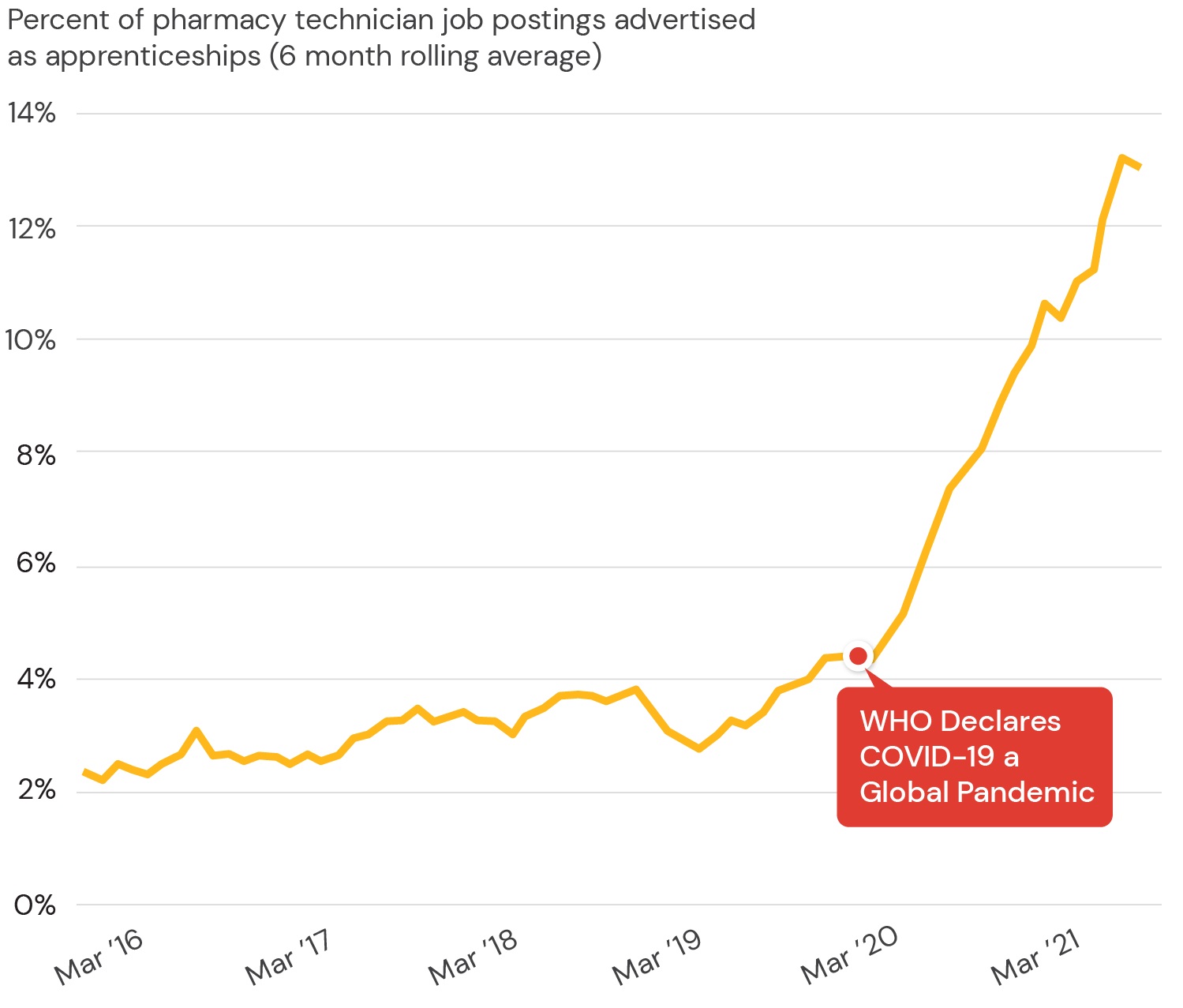 Supports a reliable supply of talent to high-volume roles

Nearly all corners of the economy are feeling the labor crunch. But for high-volume roles such as Food Service Managers, Sales Representatives, and Medical Assistants, the need is even more acute. But having an apprenticeship program in place helps create a pool of talent available during hiring swings. For example, due to COVID-19 there were nearly 154,000 job postings for pharmacy technicians in 2021. Fortunately, the number of both registered and informal apprenticeships has been expanding for this role. Back in 2005, CVS recognized the need for pharmacy technicians with roots in the communities they served and started a small apprenticeship program. It has now trained over 8,000 pharmacy techs since its inception. Such programs provide a reliable stream of trained and ready talent for high-volume positions.

Teaches unique industry and employer-specific skills

We hear it often, but it's true: jobs are changing fast. This often makes it difficult for school-based programs to adapt to shifting skill demands quickly enough and meet demand. But apprenticeships and on-the-job-training programs allow employers to teach the most current and in-demand skills needed for their roles. Participants are also able to learn context-specific information while engaging in the business and problem-solving skills as they maneuver day-to-day challenges. 

Fills talent gap in jobs new to the market

New jobs are coming online all the time. A healthy supply of talent, if any, often doesn't exist for these new roles. Advances in technology mean new security threats, making new cybersecurity roles in high demand. Similarly, new green jobs continue to emerge. Employer-led apprenticeships in these fields and others are helping create a talent pool with relevant experience and skills. 
What this means for communities
Apprenticeships are meeting a need and employers are taking note. Based on the number of unique job postings in 2021, all of the 25 occupations with the greatest hiring demand had an apprenticeship program. But there is still plenty of room to expand: 70% of registered apprenticeships offer entry to just 8% of occupations, largely in the trades: construction and installation, maintenance, and repair. 
Consequently, most businesses don't have experience creating and executing apprenticeships or in-house, work-based training programs. This presents a huge opportunity for economic development organizations (EDO), chambers of commerce, workforce development agencies, and other business support groups to help guide local businesses in this strategy. This support is largely going to come in the form of creating partnerships that help establish new apprenticeships and expand existing ones. These partnerships could come in different forms.
Talent Developers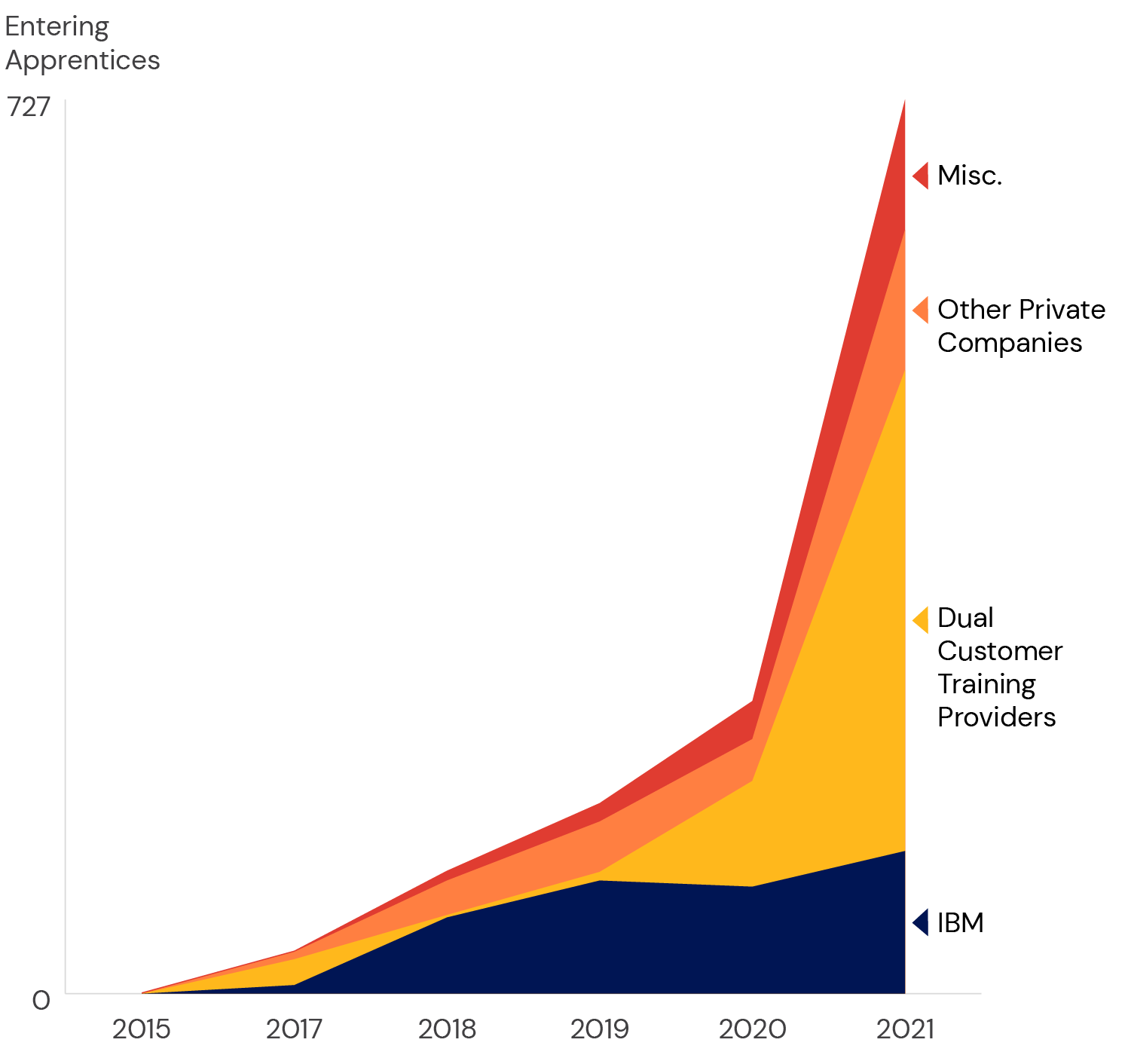 Dual Customer Training (DCT) programs define their customers as both the trainee and the employer, designing custom curricula for their employer partners. Popular in the tech industry, DCTs also source apprentices for tech jobs. In 2021, DCTs trained about one-third of all tech apprentices and more than half of all software developer apprentices. Communities need to think creatively and facilitate connections to new talent developer models, including DCTs, that can provide training in common skills and design specialized programs for individual employers.
Intermediaries
These are the entities much more familiar to EDOs, chambers, and workforce development. Relationships, even partnerships, likely already exist with organizations such as industry associations and community colleges, but a new focus on apprenticeship development is needed. Partnering with these intermediaries, with the expressed goal of developing apprenticeship programs (both registered and informal), is a proactive step communities can take to navigate the tight labor market.
Consortia and apprenticeship networks
These bring together employers, talent developers, and workforce entities to implement shared apprenticeship programs. Already have a startup community with mentors, investment opportunities, and events? Why not create a shared software developer apprenticeship program that can support both fledgling startups and established tech firms? If you're a chamber that already brings together industries such as healthcare or manufacturing, you already have the foundation to start a shared apprenticeship program.
Think expansively about work-based learning
Convening partnerships to strengthen apprenticeships will bear much fruit: teach employer-specific skills, ready a talent pool for high-volume hiring, and fill gaps created by new jobs in a fast-changing economy.

But the low-hanging fruit is helping businesses understand the opportunity. As employers continue in their struggle to find workers with specific skills, they should think about how those skills can be developed on the job. Business support organizations should help them start thinking in this way and become more comfortable with the model.

And businesses don't have to jump headfirst into an apprenticeship program. Showing them ways to incorporate the characteristics of apprenticeships will help them get started on work-based learning. They can develop a curriculum that targets the specific skill and business-specific knowledge they need. Or create a blended program of learning that combines technical training with on-the-job practice. Or even simply incorporate a mentorship program for new hires where they can develop the critical skills needed to grow in the company.
Download the free "The Changing Face of Apprenticeships: New Opportunities for Employers and STARs" report here.