Summary (download the deck):
In support of their strategic enrollment plan, East Carolina University sought a comprehensive environmental scan with a focus on assessing alignment between program offerings, including delivery modality and award level, and market demand.

This need was met through a Program Demand Gap Analysis report from Lightcast's economic consulting group, supplemented by program-specific market reports generated ad hoc by ECU staff using the Analyst platform.

Now, ECU faculty and staff are able to prioritize program growth and marketing investment that aligns with market demand, and supports the university's fiscal sustainability and enrollment goals.
---
As a public institution, East Carolina University (ECU) is committed to stewarding their resources well and ensuring that academic programs meet the needs of their community, including both students and employers. Their strategic enrollment plan (SEP) is a key driver of both priorities. 
But a strategic enrollment plan is no small undertaking, and it often takes a village to implement successfully. At ECU, the SEP is supported by subgroups devoted to a range of specialized areas like enrollment marketing, military populations, and distance education. 
Despite their unique focus areas, all of these groups have one thing in common: a need for reliable data to illuminate opportunities and guide decisions. To get that insight, they often rely on ECU's academic program planning and development group (APPD).
"We found that many of the other groups were looking to us to inform them on some of the things they wanted to focus on," said Dr. Cynthia Bellacero, director of institutional planning and accreditation at ECU and one of the co-leaders of the APPD group.
"In order to answer those questions, we wanted a full review of our academic program inventory to help guide us in looking at specific program areas to grow, as well as new program development possibilities and exploring new modalities."
Laying a foundation of decision-ready data
To get that full review, ECU worked with Lightcast's team of economic analysts to conduct a Program Demand Gap Analysis. The heart of the analysis is, as the name implies, an assessment of gaps between educational attainment and workforce demand in ECU's service region. Based on these gaps, it highlights existing programs to grow as well as new program opportunities to consider.
The report also provides a comprehensive environmental scan, providing essential context about the industries and occupations that drive ECU's regional economy, as well as key demographic, socioeconomic, and educational attainment trends.
Bellacero also uses Analyst: Lightcast's labor market analytics platform that lets her pull customizable, program-specific reports to supplement the PDGA and quickly respond to ad hoc data requests from faculty and executive leadership. She also uses Analyst to access real-time data on in-demand skills, parsed from employer job postings, to help guide discussions on curriculum development and ways to repackage existing programs into shorter, career-aligned credentials.
Combined, the PDGA and Analyst have enabled ECU to prioritize strategic program opportunities, hone marketing messaging, and ensure decisions are aligned around enrollment growth and students' career outcomes. From top to bottom, faculty and administration are embracing a culture of collaborative, data-informed decision making while building on a shared foundation of market insight.
We spoke with Dr. Bellacero to learn more about ECU's processes and best practices around using data for enrollment planning.
The process: disseminating data, engaging stakeholders
At its best, data serves to guide and spark discussion, not replace it. Dr. Bellacero's team facilitates this mindset by engaging relevant departments, along with their advisory councils and industry partners, to share, validate, and nuance the PDGA with their boots-on-the-ground perspective. Bellacero also runs Program Overview reports using Analyst to supplement the PDGA with in-depth, program specific labor market data. Her team then combines the PDGA, the Analyst reports, and their conversations with the respective departments (and their industry partners) to help focus next steps on the most promising programs in terms of potential market demand and enrollment growth.
"It's about proofing the data out and trying to prioritize what we think will do the best for us over the next several years," said Bellacero.
As a last step, Bellacero will compile all the information and present recommendations to executive leadership about where to start so they can focus on the programs that offer the best value and growth potential.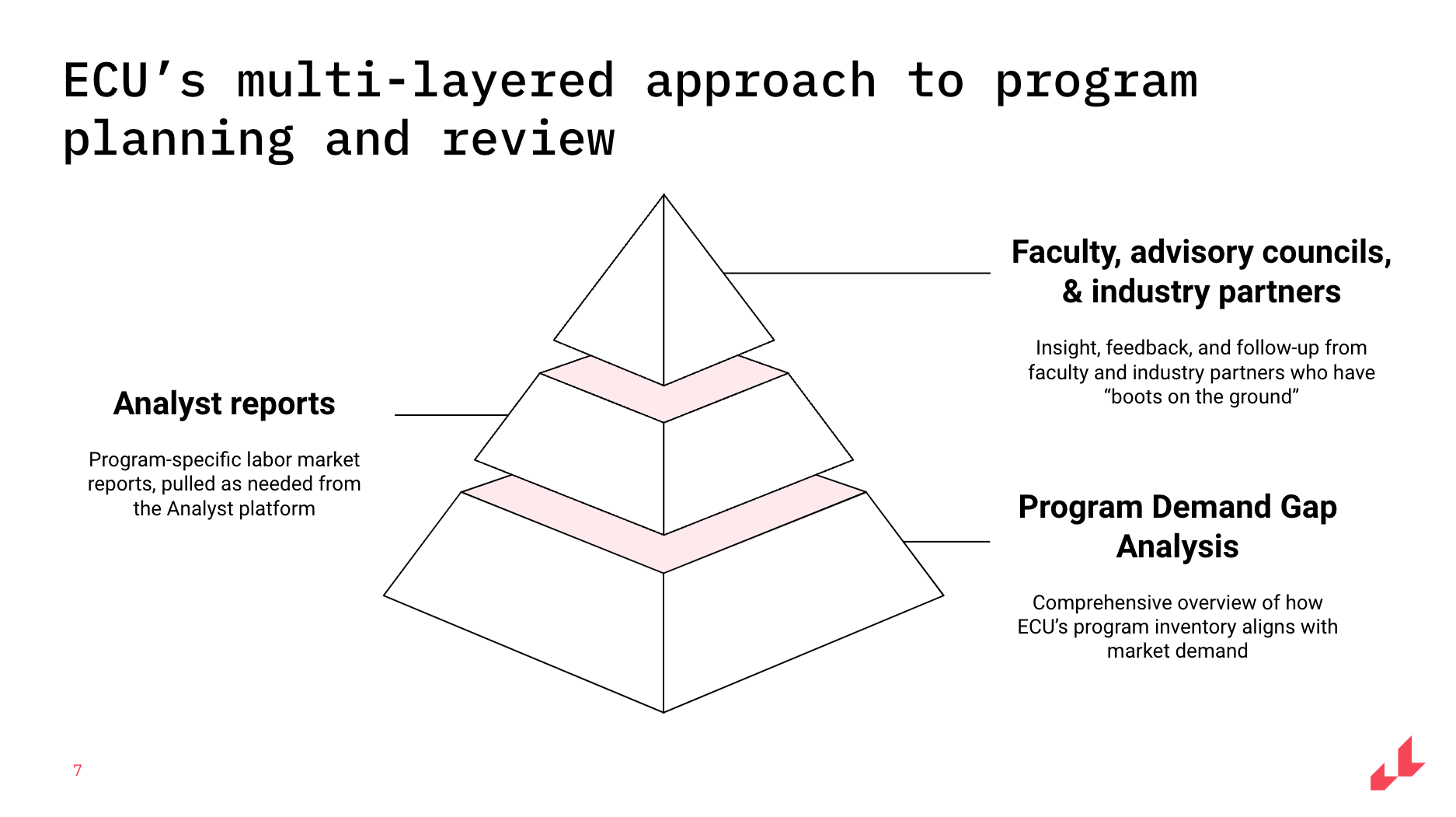 Getting from information to impact
Consider award level when evaluating alignment between education offerings and market demand
Bellacero also highlighted the value of having the gap analysis broken out by award level, since hiring demand can vary significantly within a single career area or industry depending on how advanced the role is that needs to be filled.
For example, everyone's seen national news stories about "the nursing shortage." But the PDGA helped Bellacero pinpoint the specific level of nursing education that was most needed to meet the unique healthcare needs in ECU's region: 
"We always think, "Oh there's a nursing shortage." But where is the shortage? Is it in the BSN, is it in the MSN? Is it in the nurse practitioner program? So, not just thinking about the discipline, but also the level at which you may want to grow the program will make a difference in impact."

Take a "both/and" approach to short vs. long-term goals
In higher education, things often take…time. Some processes go quicker than others, but launching a new degree program tends to be on the slower end of the scale. That's why Bellacero suggests not putting all your eggs in the new program development basket.
"We have an institutional process, we have a system office process, and then you have to build the marketing and enrollment and the curriculum around that. It could take three years before you're up and running for a new program."
Instead, she recommends taking a multi-pronged approach where you pursue some smaller-scale "quick wins" while also getting the ball rolling on bigger projects with a longer time horizon. For example, modifying curriculum, launching a new marketing campaign, or delivering an existing program through a new modality are all impactful changes that can be made in less time than it takes to deploy an entirely new degree program.
"We need to do them all and not just focus on new program development. We have to pick a few things in each category, each year, to work on and support."
Engage faculty in a collaborative, two-way approach
"Data" is sometimes talked about in a way that seems to pit it against the kind of insight gleaned through personal experience. Not at ECU. Bellacero leans heavily on feedback and engagement from faculty, who often have unique insight into the needs of specific employer partners in the region.
"We have a lot of faculty in this group and when we're talking about a program in their department area, they're going to bring back valuable information and firsthand knowledge," said Bellacero.
"For example, one of those large biopharma companies might be planning to hire however many people over the next two years. That's something that's growing but that we may not see in the data. But that gives us even more of a reason why we may want to focus on chemistry or biology and grow those programs in the region."
In fact, in the hands of faculty, labor market data can often spark new questions and follow up research, leading to unforeseen opportunities. This sparks a virtuous cycle of data-driven inquiry and faculty-led program and curriculum suggestions that align with market needs.
"When I gave some of the groups the reports for their programs, they came back and said, 'I see some other programs that look interesting; could we have some Analyst reports on that?' And so they ended up expanding their research because they really looked through the whole report instead of just checking the box."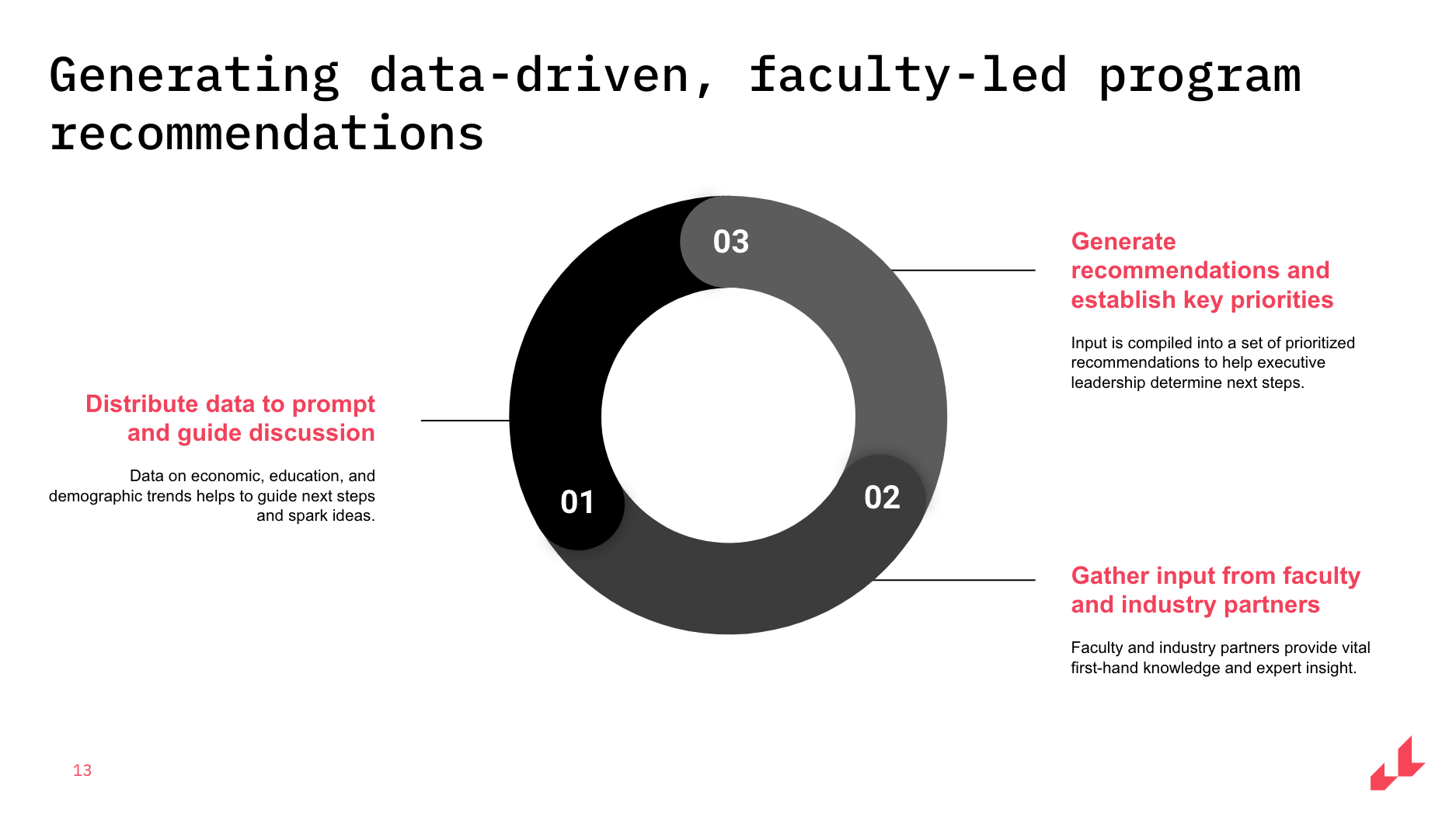 Next steps: Marketing, fiscal sustainability, and promoting diversity
Reaching strategic populations with targeted messaging
In addition to the main gap analysis report, ECU also commissioned several "breakout reports" focused on key populations and regions:
Distance education

Adult learners

Military and Veterans

Liberal arts programs

Charlotte-Mecklenburg region

Raleigh-Durham region
These focused reports will help ECU take a deeper look at how to meet the unique needs of each population, and inform more targeted enrollment marketing and outreach to these populations.
"That's going to be interesting to see how we can key into certain populations for certain programs and maybe focus our attention in recruiting and marketing to specific areas for specific programs. Instead of saying come to ECU, we're the leader in online education. We can say: <<Come to ECU for this program.>>"
For example, Bellacero pointed to ECU's commitment to serving the region's military personnel:
"Maybe it's criminal justice, maybe it's industrial technology, maybe it's computer science. If those are the programs that they're interested in, then we can focus there. We can go to the military bases (we have a presence on some of them already) and know which programs to promote that are going to resonate with the largest number of people."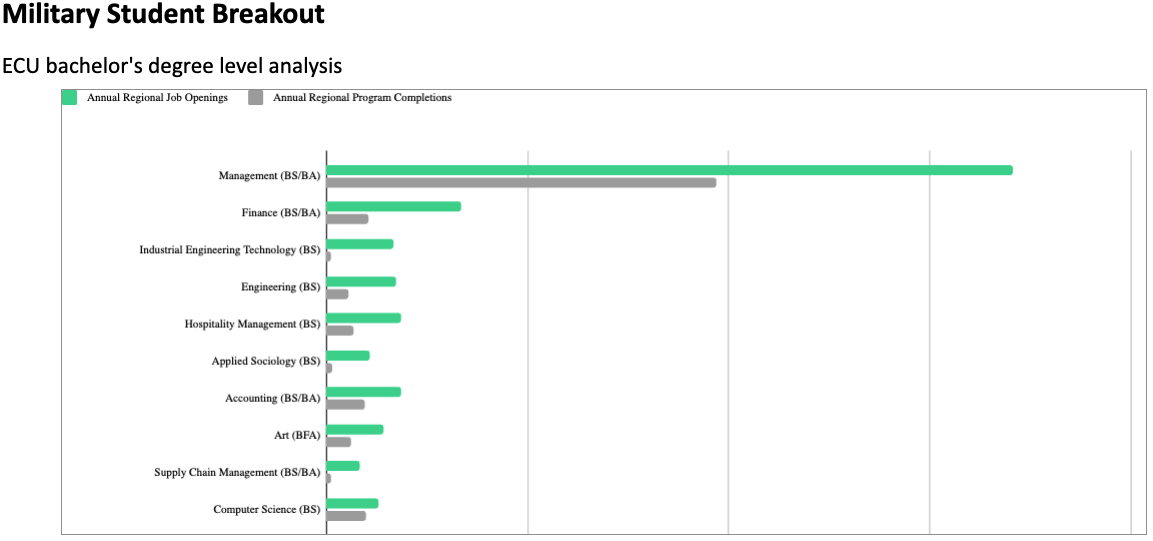 Fiscal sustainability: From downsizing to upskilling 
It's an unavoidable reality that some academic programs struggle to sustain enrollment, and as a consequence may not bring in enough tuition revenue to cover their own expenses. In a tight economic environment, it's important to take an honest look at these programs and be open to creative solutions. 
For example, rather than assuming a program should be cut, Bellacero prefers to approach these situations in terms of an opportunity to redesign and realign:
"It's not always about saying, 'Oh, we don't need this program.' Sometimes, it's about asking, 'What can we do to enhance this program so that it meets the demand?' Things change all the time, and what the industry needs from us changes all the time. A lot of times it's the curriculum itself that may need to be fine tuned in order to make a program more viable."
According to Bellacero, that's where the job posting analytics and professional profile data available in Analyst really shine as a complement to the PDGA. 
"I love the skills area where you can look at the types of things employers are asking for in the job market and the types of skills that people holding those jobs have. And I can see when there's a mismatch: things that the employers are asking for that people don't have. And then that becomes an area you can focus on and ask, 'what can we do to build that into the program curriculum?'. Or maybe it could even be an add-on as a certificate, maybe even a micro-credential."
"We're delving into micro-credentials now and figuring out what those will look like at ECU. And this kind of insight can help us do that."
Using demographic data to promote diversity in the workforce
When it comes to enrollment planning, demographic data isn't just for forecasting "enrollment cliffs." It can be used in a number of ways to form a data-rich enrollment plan that's firmly rooted in reality. For example, ECU is looking at demographic trends in their region to anticipate labor market needs (like a sudden wave of retirements in a particular industry creating a vacuum of skilled labor). More than that, Bellacero sees how this data can be used to proactively address a lack of diversity in certain sectors of the economy. 
"If 90% of the industry is retiring in the next five years, that's something to think about. And if a large portion of the industry is older white males…well, how can we engage minority and female populations a little bit more with relevant programming? All of the data is relevant depending on the question you want to ask of it."


Long-term impacts
Embracing efficiency
Before partnering with Lightcast, ECU's institutional research team spent a lot more time trying to retrieve and organize data from reliable sources.
"We were scrubbing data from lots of different places. And we didn't have access to some of the data Lightcast provides access to. But we were pulling data from the places we could access, and then compiling it ourselves and sending it out to people if they asked for it."
Now, with the gap analysis report for big-picture trends and the Analyst platform for detailed, ad hoc research, Bellacero and her team have the insight they need, at their fingertips. 
A culture of data-driven decisions
While Bellacero said it took some time to catch on, word has spread that this data is readily available from her office. She now spends less time advertising the data and more time fielding requests around specific program proposals. 
"What I have seen is people are starting to think more in terms of student demand and labor market demand. People are asking, 'What is the student demand here? Is there duplication within the system itself, within the state? Is there room for a new program in that market? And will the students be able to find jobs at the end of that?' I'm fielding a lot more of those kinds of requests now."
"That makes me happy because I know that when a faculty member has a desire to put a new idea through our new program development process, that they are going to use data to decide whether or not they want to put that through."
In 2021, this mindset led ECU to formalize the use of Lightcast data (then known as "Emsi") as a required step in the review process for new program proposals.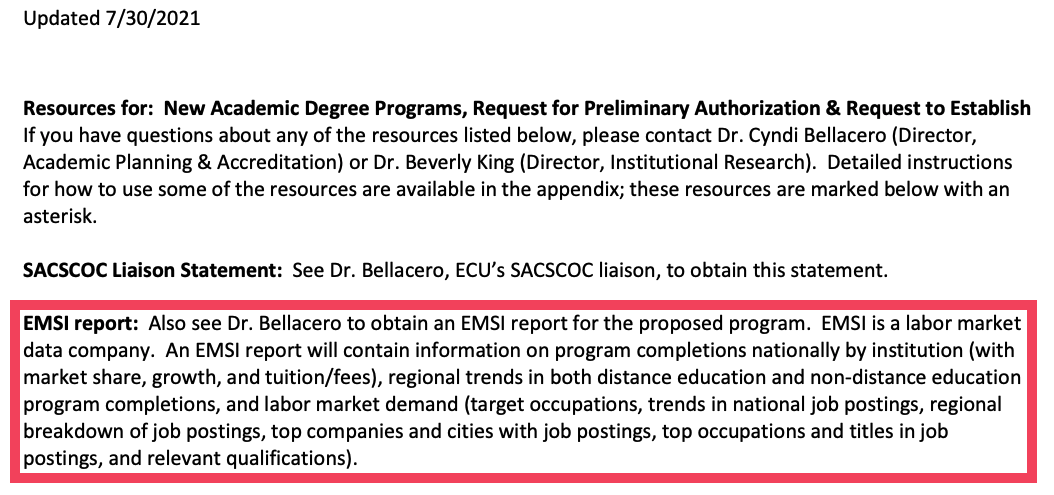 Far from getting in the way of program proposals, Bellacero says that incorporating labor market data often helps bolster the case for a new program when it demonstrates an unmet need:
"That's a really strong argument to put resources into a new program, when you can show that you can find the enrollment and that our labor market will support it within our region or within a region we're targeting."
Learn more about the Program Demand Gap Analysis or contact us for a personalized walkthrough. We'd love to learn more about your work and explore how Lightcast data can help!