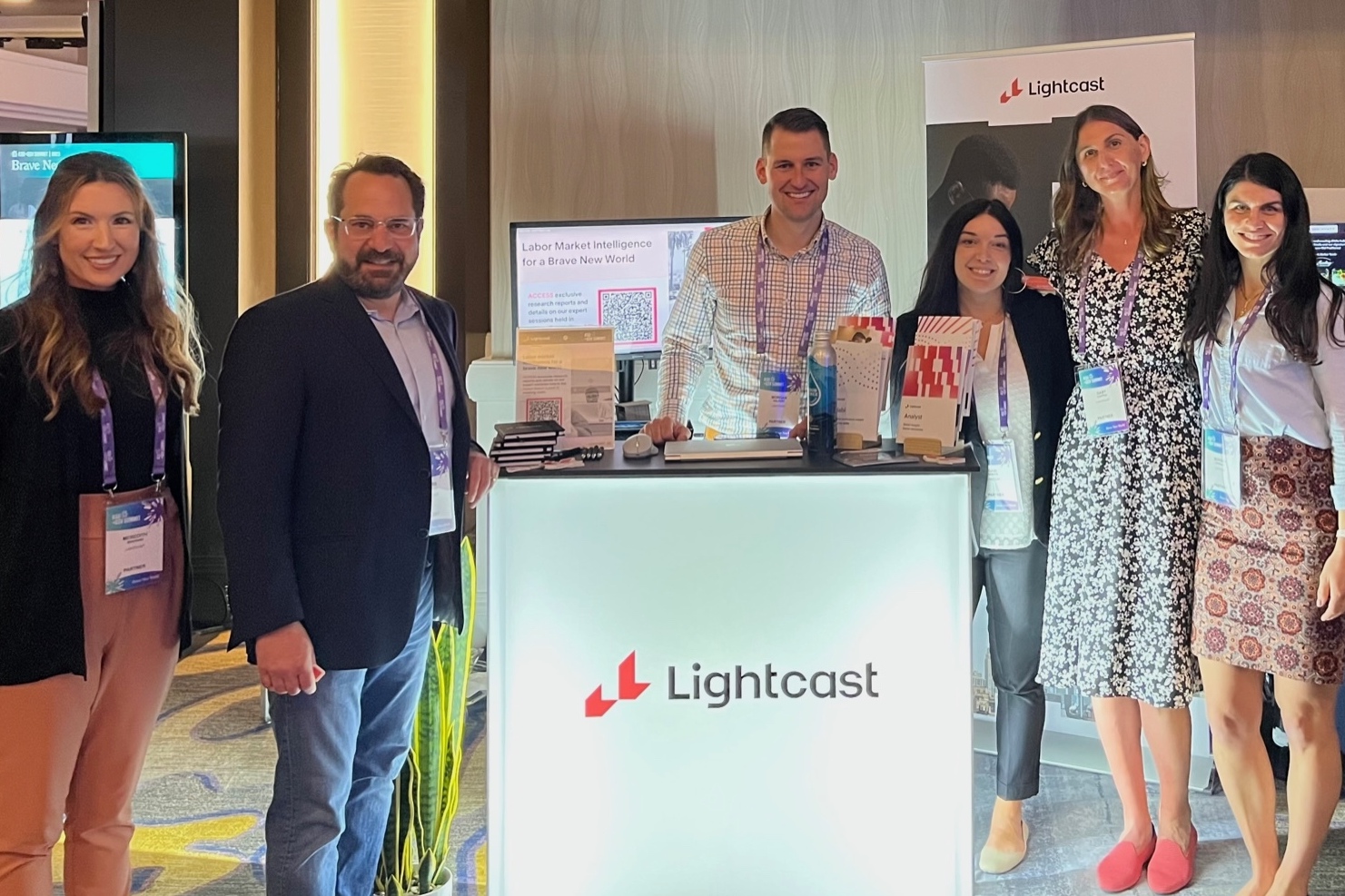 We had an amazing time at the 2023 ASU-GSV Summit — a jam-packed event full of world-class speakers, innovative technology, and illuminating research. It was a pleasure to spend a few days in San Diego, making new connections and catching up with old friends.


This year, over the course of nine different sessions, we had a chance to share research, show off the latest & greatest labor market analytics tools for higher education, and
moderate a discussion about solving skill shortages for in-demand careers
.


We know conferences like this can be information overload (and let's be honest,
sensory
overload). So in case you were there and overwhelmed, or absent with a bad case of
FOMO
, here's a highlight reel from this year's Summit, broken down into three categories:
2) Research Reports & Market Analysis
A Capability Crisis: Addressing Skill Shortages for In-Demand Careers
Facilitated by Lightcast CEO, Chris Kibarian
Despite recent layoffs, the demand for skilled technology professionals continues to outpace the supply, creating a significant challenge for organizations. By investing in learning and development, organizations can not only address the current capability crisis but also build a strong, capable, and competitive workforce for the future. This panel discussed how organizations can be innovative and proactive when it comes to upskilling and reskilling workers to solve these skills gaps.
Participants:
• Chris Kibarian (Lightcast) - Moderator
• Lina Bankert (Boston Consulting Group)
• Michael Hansen (Cengage Group)
• Adanna Ukah (Chegg)
• Thomas Reilly (Comp TIA)
• Sanjay Srivastava (Vocareum, Inc.)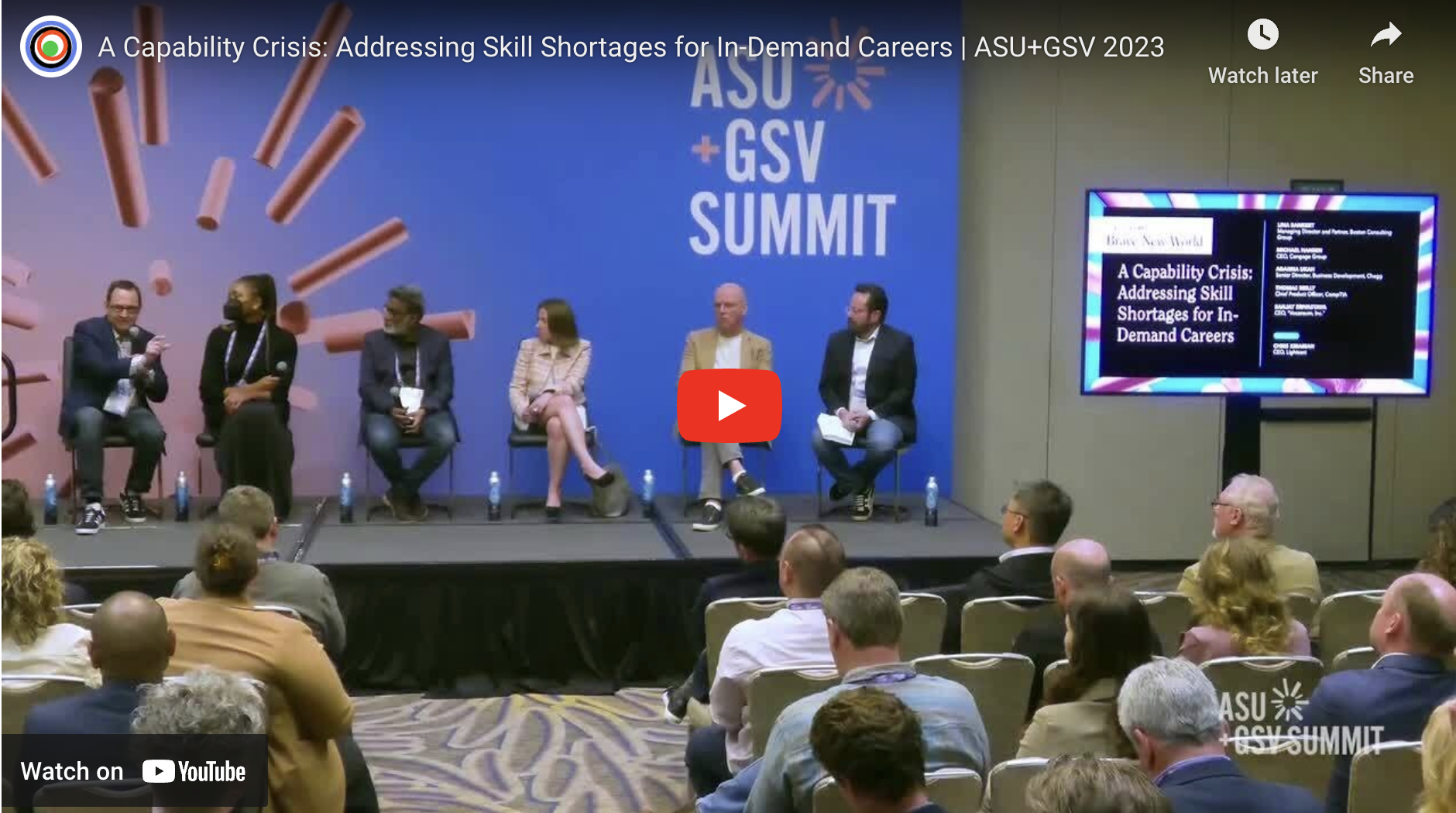 Research and Market Analysis
Lightcast's team of economists, data scientists, and researchers have been hard at work crunching data and mining it for nuggets of insight. Here's four reports we shared at ASU-GSV (and there's more on the way…)
The College-to-Jobs Data Initiative: Bridging the Gap Between Higher Education and the Labor Market
Speaker(s): Peter Q. Blair (Harvard University), Rucha Vankudre (Lightcast)
In this session, the Project on Workforce at Harvard, Lightcast, and the Capital One Foundation announced the launch of the College-to-Jobs Data Initiative. This discussion shed new light on the disconnect between higher education and the labor market and examined strategies to better connect postsecondary students to good jobs. The panelists also explored education and workforce trends–with a focus on public colleges–and discussed the data and information leaders need to promote inclusive economic growth.
To learn more, check out the overview video below, watch a webinar discussion moderated by Goldie Bumenstyk, or explore the map for yourself.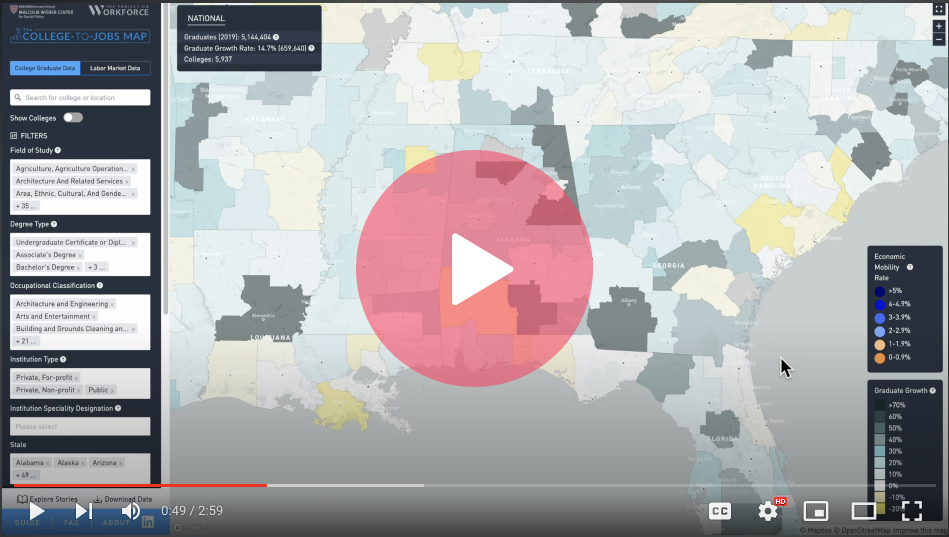 Moving Up and Moving Forward: Advancing Economic Mobility for Adult Learners
Speaker: Rucha Vankudre (Lightcast)
Lightcast's study of 270,000 adult learners revealed that non-traditional students could benefit from a 22% greater chance of upward mobility in their careers if they choose to return to school. In this session, Rucha Vankudre shared which degrees and majors offer the most upward mobility for adult learners, what potential career transitions and pathways for adult learners look like, what average annual salary gains adult learners from certain industries have seen after returning to school, and how to use this information in your adult learner marketing and enrollment strategies.
Unlocking Insights for Program Growth and Success
Speaker(s): Rucha Vankudre (Lightcast)
New programs are vital for sharing new fields of discovery and building the foundation for future growth. But research from Lightcast shows that programs from every field of study have similar odds of success, and while 30% of all new programs succeed, another 30% do not, and the remaining 40% are caught in the middle. In this session, Rucha Vankudre helped attendees understand the patterns underlying this data and explore novel ways to validate new programs, improve the likelihood those programs succeed, and improve outcomes for institutions and students.
Connecting Classroom and Career: Advancing Success Through Skill Alignment
A clear understanding about which skills and majors make smooth transitions from school to work can enable better decisions about how to prepare students for the labor market and position education institutions for future success. In this session, we shared results from our forthcoming research paper analyzing the difference between the skills taught at education institutions and the skills requested by employers. In that paper, we will show how results vary by major and geography, and most importantly, demonstrate the impact of skill alignment on student labor market outcomes.
Report coming soon! In the meantime, learn more about using skills data to align credentials with career pathways for learners.



Data Analytics Tools
Besides sharing the latest research from our economists, we also had a team of specialists on-hand to show off how Lightcast tools help institutions get the data they need to make better, faster decisions. We were especially glad to have several of our friends and partners on hand from organizations like CollegeAPP, Purdue Global, and College Board. Here's what we covered:
Intent Matters: The Most Important Measure Colleges Can Use to Reclaim & Enhance Adult Enrollment
Speaker(s): Jack MacKenzie (CollegeAPP) & Gabi Skeate (Lightcast)
According to CollegeAPP data, 20% of all U.S. adults including 40% of Hispanic/LatinX, 39% of Black, and 35% over the age of 18 in the U.S. intend to enroll in college in the next two years. This is a massive opportunity for institutions to make higher education available to a larger portion of the population, while directly addressing equity gaps. The recent U.S. Department of Education issued new guidance to strengthen oversight of revenue-sharing agreements and outsourced service will put new responsibility and possibility for colleges to reclaim their marketing and rededicate themselves to their mission both socially and financially.
Related resource: Five NEW Rules for Adult Prospect Marketing 
How to Discover and Harness the Power of Skillification
Speaker(s): Jennifer Lasater (Purdue University Global), Morgan Halpert (Lightcast), Gaby Kappes (Lightcast)
What is the market asking for that you're not teaching? How could you adapt your offerings to meet new market needs? What courses could be combined in new ways to better meet the needs of employers and learners? What are you currently teaching that's in high demand? In this session, we showed how to unlock actionable curriculum insights through the process of "skillification", to help you translate course content (learning outcomes, syllabi, etc.) into work-relevant skills that are recognized and valued by employers.
Related resource: Developing Career-Aligned Programs with In-Demand Skills (on-demand webinar)
How Your Alumni are Using Their Education in the Real World
Speaker(s): Lendl Meyer (Lightcast), Morgan Halpert (Lightcast)
From program review to enrollment marketing, alumni career outcomes provide critical insight to inform and empower educational leaders and faculty alike. But alumni surveys and other traditional approaches to collecting this data are often time-consuming and ineffective, resulting in low response rates and incomplete data. In this session, we shared how colleges and universities across the U.S. are using alumni career outcomes data to drive decisions in marketing and enrollment, advancement, industry partnerships, and more.
Related resource: Using Alumni Career Data to Attract Funding & Support Guided Pathways (on-demand webinar)
Where They Are and Where They're Going: Infusing Skill-Agility Into Career Pathways
Speaker(s): Gabi Skeate (Lightcast), Gaby Kappes (Lightcast), Allison Danielsen (College Board), Kathleen Weiss (College Board)
The analysis of 15 million job postings found the skills requested in the average US job have changed 37% since 2016 according to the recent Lightcast report "Shifting Skills, Moving Targets, and Remaking the Workforce." Drawing upon the universal language of skills, Career Pathways reveals data on how people can make the best decisions about connecting workers with jobs. Career Pathways are open to everyone—regardless of industry, degree, experience, or other obstacles that can keep workers from finding their best fits. From upskilling, reskilling, to stackable credentials, Career Pathways unlocks the value of workforce navigation.
Related resource: Launching Career Pathways: A New Tool to See How Workers Move from Job to Job 

The conference may be over, but the work is just starting! If you'd like to learn more about any of the data or tools we talked about at ASU-GSV, please let us know. We're excited to learn more about the work you're doing, and explore how our data can help.